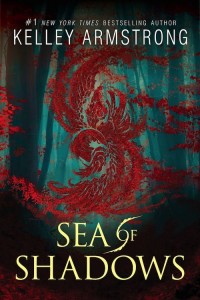 You know something I get a lot? "You can't get emotional over a book. A book can't be scary. It's just words." Well, that's definitely not the case with Sea of Shadows by Kelley Armstrong. The story follows Moria and Ashyn, two twin sisters born to be the "Seeker" (Ashyn) and "Keeper" (Moria) of the Forest of the Dead, a neighboring forest where people from their village are exiled for their crimes. Today is the day of the first Seeking, a day when the Seeker goes out to put the spirits of the dead exiled in the forest to rest. However, something goes horribly wrong. Strange beings from so-called "myths" in their village have appeared, killing everyone in the village aside from Moria, Ashyn, and a few others. On top of that, the children of the village have gone missing. But that is only the beginning of their problems…
Sea of Shadows is a very descriptive book. So much so, that I often found myself cringing at some of the details! I'm not saying that I totally disliked the description, though.  As a matter of fact, I think that's one of the book's strong points. It's so descriptive, it's like you can really see precisely what's going on. The book is extremely bloody! I mean, an entire village gets wiped out in a matter of minutes! So if you like your fantasy with a little gore this might be a good one for you.
I have absolutely no complaints about this book, whatsoever. It almost makes me sad that this book doesn't come out for another 4 months or so, because that means people will have to wait even longer to enjoy it as much as I did. Sea of Shadows has a real fantasy-romance feel, so if that's what you like, it's time to get excited. Come spring time there will be a new book for you to treasure.