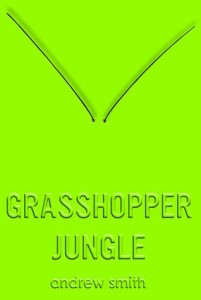 In the thrilling adventure found within Grasshopper Jungle by Andrew Smith, a fifteen-year-old named Austin explores some of the typical aspects of the teenage experience: family issues, sexual orientation, finding yourself, and so forth. However, unlike the average teenager, Austin also has to deal with the fact that he and his friend, Robby, are partially responsible for unleashing an army of unstoppable praying mantises. Suddenly, the fate of the world has fallen on their shoulders. Although there are clearly plenty of issues that take place during the end of the world, Smith proves that the complexities of human nature can be just as terrifying and mysterious, if not more so.
Despite how odd this book may sound in a summarization, I can definitely say that just a short summary could never do this book justice. The original and inquisitive manner in which Smith delivers this story is difficult to adequately describe without giving away too many spoilers. Granted, this book is not for everyone, but for those who are willing to take the plunge, it can be an extraordinary experience.
In total, for anyone eager to explore a thought-provoking adventure book, I highly recommend reading Grasshopper Jungle.