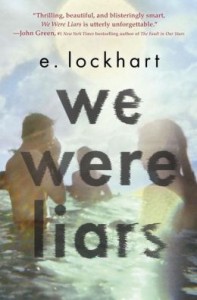 A private island of hope and deception, a group of four friends, secrets, lies, accidents – all of these things appear in the unique and unforgettable novel We Were Liars by E. Lockhart. There is love, there is loss, there is uncertainty. While I would love to tell you more, this dramatic and suspenseful novel is best experienced if you simply read it, with as little spoilers as possible. Overall, it's a heartbreaking read with a dark plot, a distinct writing style, and a haunting ending.
I've read many young adult novels in my life, but this book is definitely not like anything I have ever read before. It's a quick read, and the plot initially starts out slow, but I loved watching the story unwind. It's writing is poetic, the content is raw and deep, the ending is powerful. The unique writing style is rather choppy, which may not be appealing to some readers, but even if the writing style isn't your favorite, I still think the story is worth reading. E. Lockhart has woven together a remarkable novel, and I highly recommend that you read it to see what all the hype is about. Oh, and the blurb says to lie about the ending, so for all you know this could end up being a tragic story about circus clowns. You'll never know unless you read it.
To conclude, if you ever want to read a thrilling mystery novel, or if you just want a fascinating yet short read, We Were Liars is a great choice.