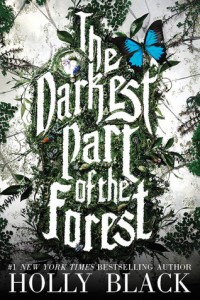 In a mysterious town called Fairfold, within a mythical forest, a glass coffin containing a sleeping boy rests on the earth. His unimaginable beauty, his sharp horns and ears, and his unexplainable existence draw numerous townsfolk and tourists to visit the coffin, and to investigate other magical creatures in the woods. The people who seem to be the most fascinated by the creatures are two townsfolk: Hazel and her brother, Ben. Ever since they were children, they spent their time admiring the horned boy and dreaming about slaying monsters that harmed innocent humans. But on the brink of Ben and Hazel's transition into adulthood, the horned boy awakes. As Hazel sets out to be the savior of the town, she questions if she has what it takes to return the town to the way it once was, as well as to manage her own tangled and drama-filled life.
If anyone out there wants to read an astounding fantasy novel, I can honestly say that The Darkest Part of the Forest is a book you should dive into. With the non-stop adventure, the sensational love stories, the incredible story-line, and just the overall creativity of the book, Holly Black has crafted an original journey that I'm sure so many readers will love to experience. Some people may not be happy about the references to sexual activity and alcohol, but in most cases this comes in small and minor doses. Still, this book made me crave more each time I read it. Black is definitely worthy of being a bestselling author.
For those of you wanting a novel blended with plenty of creativity and fantasy, keep your eyes open for this book, as well as for other works by Holly Black.