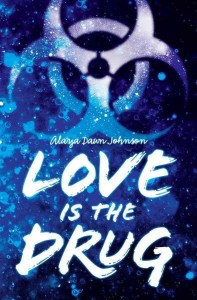 To what lengths would you go to remember a night you've been forced to forget? Emily Bird, the main character of the book Love is the Drug, would risk it all. After waking up in the hospital several days from the night of a party, Bird only recalls snapshots of the evening: fragments of conversations, her boyfriend's car wheels turning, a strange boy chasing after her. However, an odd government official named Roosevelt is determined to keep her memories at bay. He fears that she knows more than she should about her parents' secret work, and about the flu virus that is spreading over the world and sending everyone into havoc. As Bird juggles the stress of relationships, school, and the danger of the virus, she and a drug-dealer named Coffee work desperately to find out why Bird cannot remember that night of the party, and why Roosevelt wants to keep that night a secret.
Mystery and suspense fill this story, making it an engaging and thrilling piece of fiction. The author, Alaya Dawn Johnson, writes in a manner that really sparked my curiosity. I loved the complexity of the plot and the emotion I felt while reading. However, there is a lot of information you have to follow all at once in this book, which makes some things hard to understand. On the other hand, this aspect actually makes it more interesting and engaging, because there's always something new to discover. In total, Johnson stunningly weaves together a variety of characters with a thought-provoking plot that keeps you guessing.
For anyone who enjoys suspense and love stories, or for those who simply want a fascinating book to pass the time, Love is the Drug is a great choice. The story will definitely capture your attention.