Dumplin' all I gotta say is this novel is fantastic and absolutely hilarious a masterpiece that went big and struck a home run! Willodean is an infectious character who is down to earth, selfish, naive, sarcastic and the biggest Dolly Parton fan known to man or at least Clover City. Her journey through the summer of her sophomore year and junior year of high school is raw and relatable for many teenagers.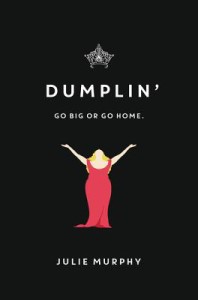 Now, the premise around Dumplin': Go Big or Go Home surrounds Willodean over the summer while she works at a local fast food joint and then her participation in the Clover City Miss Teen Blue Bonnet Pageant. Willodean is an unprecedented contestant for she is a fat girl, always has been and always will be and that's how she likes herself. Although to Willodean's surprise her entry sparks the participation of other outcasted not traditionally pretty girls of another fat girl, a lesbian, one with buck teeth and a girl with uneven legs who all flaunt what they got. Which is amazing and inspiring. There is also a subplot between Willodean and her best friend Ellen as their friendship is strained and tested by secrets, boyfriends and the pageant. And another featuring Willodean learning how to love herself enough to let more than one person in. Alright, on to the characters! Beginning with good ol Willodean who, as previously stated, is a big girl who works at a fast food stop. On the outside she appears to be very sure of herself and secure in her body, but on the inside is very anxious and embarrassed of her thighs. Yet she still has the gall to sign herself up for a pageant which puts her body on display and pastes her unsmiling face all over the newspaper. Although Willodean's decision to enter the pageant was rash and ultimately she did question her own motives and sees them as the wrong reasons to have entered. Now, what is really awesome and amazing about Willodean is the incredible changes she goes through throughout the entire novel from super secure too lovestruck to being extremely jealous to being very stubborn (the most frustrating phase, but necessary) to getting stage fright and then finding herself in a mixture of all the sensations. Willodean is a melting pot of many different people and influences that matures throughout the novel into an amazing young woman. As for Ellen, Will's best friend, she is a very considerate and kind friend who has everything; a hot boyfriend, bikini bombshell body, smart, sweet and approachable and funny. Which is the cause of so jealousy on Will's part, overall is a rather quirky girl with a pet snake. Ok, onto Bo who is Will's coworker at Harpy's and he goes to catholic school, loves locks and plays basketball. Bo likes giving red suckers to people when they appear trouble and doesn't give a dang if his peers prefer if he didn't like Willodean, he likes her and that's all that matters, but will Willodean accept that? Alright the last person I will shine the spotlight on is Willodean's mother. Who was a winner of Miss Teen Blue Bonnet and now runs the committee that organizes it. And every year since her crowning she has worn her formal dress as she announces the winner. Making her go on many diets and maintain a pretty strict workout plan. Which has been the cause of a lot of tension between Willodean and her mother especially in the wake of her Aunt's passing the winter before. So watching their relationship grow and fluctuate throughout the preparation and during the pageant is something to see since it's just like how most kids get at it with their parent at that age where there are the fights and the little moments where you are best friends. There are other awesome characters, but these four deserve the most mention.
So I have a few gripes with this book , but they are rather minor. First, at the beginning of chapter 36 there is mention of two telepathic second cousins but when individually referred two are called a twin. Not a big thing, but it is there. Also at times it was difficult to figure out how old everyone was since most characters were driving sophomore year of high school and Ellen was in a serious relationship. But after some math I was able to conclude that because Will's mom won Miss Blue Bonnet at 16 in 1997, had will at about 18 so in 1998 then Will and Ellen could probably have been about 16 to have also competed and already have a license. It was a bit confusing, but made more and more sense as the book went on and we go more dates and specifics.
Overall, I loved this novel. It was hilarious and so unconventional by begging the question of who can compete in a beauty pageant? The answer: Anyone! Also a shout out to the very accurate representation of stage technicians (sound, lighting, etc) it was on point! This book is body positive, great for teenagers, young and old people. The plot is captivating and the characters rock all the way through. Definitely going to be getting this and recommending it to my friends!