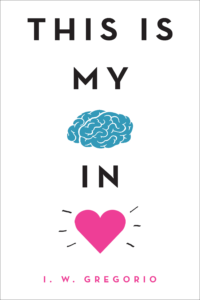 This Is My Brain in Love tells the story of a teenage girl, Jocelyn Wu, struggling to keep her family's Chinese restaurant, A-Plus, afloat. We follow her along in her journey as she struggles with living up to expectations from her father, growing a dying business, having a boyfriend for the first time, and dealing with mental health issues.
At the same time, Will is an African-American teenager who is struggling with anxiety and social interaction. He wants to be a journalist, but when his editor tells him he has to start asking "the hard questions that make sources squirm," he takes a job as a management intern for one A-Plus restaurant in hopes of getting real-life experience for a story. That is where our stories converge. Jocelyn and Will fall for each other at first sight, but teenage love isn't as simple as it seems. With an overprotective father, anxiety issues, the stress of running a business, and jealousy, all playing their part, will the two lovebirds be able to survive?
Gregorio does a great job of bringing us into the world that Jocelyn and Will live in. Her descriptions of sizzling oil, fresh steamed rice, and the smell of homemade dumplings really sets the stage for discovering what these people go through day to day to run a Chinese restaurant. Her book is light and entertaining, but she touches on a lot of important subjects such as immigrants in America, mental health issues, and discrimination against different races. This book creates empathy. For as long as you read it you're put in the shoes of an Asian-American family struggling to save their business, or a boy, growing up different in a society that wants everyone to be the same.
Although I can't say that This Is My Brain in Love is a book that I'll find myself reading over and over again, it definitely holds some gems. I recommend for anyone who is interested in a good love story that inspires dedication and perseverance.