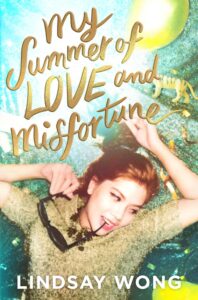 Iris Wang has caught her boyfriend cheating on her with her best friend, drunkenly crashed her parent's car through their garage door, gotten into none of the colleges she had applied to, and failed her senior year of high school. What else could go wrong? For Iris, the main character in "My Summer of Love and Misfortune" by Lindsay Wong, it's being sent to Beijing by her parents to find herself and her culture. She expects living in a foreign country with her cold cousin and uncle that she's never met before to be awful, but she finds romance and her family history along the way.
I thought this book was fun and light-hearted, and I enjoyed the story. With this in mind, Iris was not a character you could root for, and none of the other characters in the story were either. Iris was incredibly naive and selfish, and there was absolutely no build to her character transformation. It was a complete 180-degree turn.
Although there were some problems, I did enjoy this book. The exploration of Beijing through Iris's eyes added a fun element to the story. I would recommend this book to those who like realistic fiction and to any Asian Americans trying to reclaim their heritage.