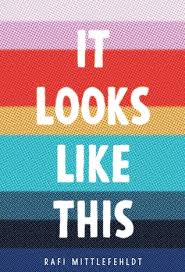 It Looks Like This is Rafi Mittlefehldt's first novel, but you wouldn't know it from the masterful prose.  Mittlefehldt chronicles a young queer boy Mike's journey to maturity through the trials and tribulations of being "soft" in a very conservative family, being bullied at school, and the pain of first love.  When his father learns that Mike has been kissing a boy from school on the beach, his father gives Mike the choice of going to conversion therapy or remaining how he is. While on the surface this seems like an easy choice, Mike is crushed by the weight of his family's shame and the torture of facing bullies every day at school, and he accepts his parents' offer, sending him on a rocky journey to self-discovery and confidence filled with tragedy, realization, and hope.
Mittlefehldt constructs a distance between the reader and Mike through his short choppy sentences and matter-of-fact manner of storytelling, giving it the numb feeling of being in someone else's dream. This distance makes the novel black-and-white with bright bursts of color as emotion and surety slip through Mike's shielded state of existence.  Part of Mittlefehldt's greatest success is in his ability to paint a sensory picture, describing everything from the rich colors of scenery to the smells and sounds, giving the reader enough to plant them firmly in space and time, but not so much as to lose the sense that there is something that is always just beyond reach. Mittlefehldt also weaves in many subtle metaphors so that he almost never has to explicitly tell the reader what characters are feeling and thinking. He does this with foreshadowing, often telling the reader exactly what's going to happen, but it does not become clear that he has done so until everything comes together.
The plot is also magnificent. Mittlefehldt jumps around a bit, sometimes breaking up the story with little vignettes from Mike's past, which help to shed light on why Mike behaves like he does and gives clues as to what might happen next. Even so, Mittlefehldt draws the reader in with Mike's disjointed tale, creating the sinking feeling of climbing the biggest hill on a roller coaster and knowing that the fall is coming but being unable to do anything about it. The story is enrapturing in that way and its deep realizations stick long after the final page has been turned.

It Looks Like This manages to be strikingly beautiful, heart wrenching, and hopeful all at once. There is little―if anything―to complain about in Mittlefehldt's debut novel and is certainly worth reading for anyone who has ever felt like they don't quite fit in or who is simply looking for a gorgeous and breathtaking read.