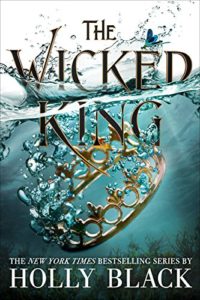 Holly Black's The Cruel Prince was a masterpiece of magic and intrigue that followed Jude, adopted daughter of a Faerie general, as she fought for power in the Faerie court. In the Wicked King, Jude has the power she always wanted as seneschal and handler of the newly crowned King Cardan, and is struggling to hang onto it.
Before he became king, Cardan swore to obey Jude's every command for the next year, but with over half that time gone, Jude is scrambling for a way to extend her power over the unpredictable young king. If she doesn't manage to, then her little brother Oak will be forced to take the throne and she will lose all the influence and control that she fought so hard for. On her side is the Shadow Court, a dangerous team of spies and assassins who work for her and the king, but even their loyalty is only as valuable as the highest bidder is willing to pay for it.
They say old friends make the worst of enemies and between the adopted father she betrayed, the boy who betrayed her and her twin sister, Taryn, Jude has a surplus of foes and is perilously short on allies. If she wants to stay alive— and stay in power— Jude will have to be more clever and more ruthless than ever before.