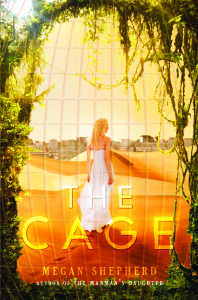 Cora wakes up in a foreign, red desert with her head throbbing, her entire body sweating, and confusion eating away at her mind. The last thing she remembers is driving in a car with her brother through the snowy terrain of Virginia, and a dream about a beautiful angel. However, as she wanders around the desert, she discovers that she is not alone: five other teenagers roam the area, and they are just as bewildered as Cora. Nevertheless, they soon discover that they are not on Earth anymore. Rather, they have been taken by extraterrestrials and are now trapped inside a human zoo, where escaping becomes more impossible by the minute.
The Cage by Megan Shepherd is such a riveting start to a new series. The pages drip with suspense from beginning to end. This is one of those books that is hard to tear your imagination away from. As soon as you think you understand what is going on, another plot twist is thrown your way. I'm actually really anxious because I have to wait so long for the next book to come out! Anyway, there are many characters to keep track of, but I found that I became so interested in this unique tale that I had no trouble distinguishing each of them. Overall, Shepherd paints a brilliant picture about love, trust, and what it means to be human.
If anyone is interested in an intense, mesmerizing sci-fi series, I would definitely recommend starting with Shepherd's wonderful book The Cage.