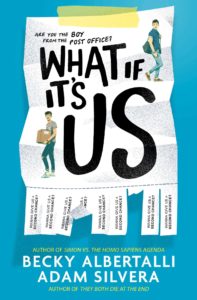 After months of waiting, the time has finally come to welcome into the world What If It's Us by Becky Albertalli and Adam Silvera. The long awaited collaboration between two of the best authors of queer YA more than lives up to both author's previous books. While Albertalli's light and cheerful style gives the story a rom-comesque feeling (while still flipping the genres usual stereotypes), Silvera's chapters ground the book, giving it a thoughtfulness and dimension needed to balance it.
When Arthur accompanied his parents to NYC for the summer he had three goals: make friends at his internship, explore the city, see Hamilton. But now his parents are fighting, one of his best friends won't text him, and there has been no sign of Lin Manuel Miranda. To top it off he was too clueless to get the name of the cute guy he met at the post office.
Meanwhile, Ben has his own set of problems. His friend group splintered after a couple of breakups, his boyfriend cheated on him and his best friend has all but abandoned him for his latest romance. Oh, and he has to attend summer school. With his ex.
With the help of craigslist, their friends, and plenty of internet stalking via instagram they may find each other, but what then? Will they work together, and what happens when Arthur has to leave at the end of the summer?