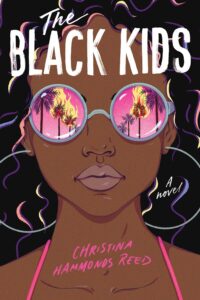 "The Black Kids" by Christina Hammonds Reed is a very engaging narrative about race, violence, and self-worth. Ashley Bennet lives in Los Angeles in 1992 as an African-American high school senior. When a man named Rodney King is beaten to death, Ashely questions her place in society, as well as the decisions and microaggressions of her white friends that she had previously brushed off. She worries about her sister, who becomes involved in the riots over King's beating and tries to come to terms with the rumor she spread about another Black classmate.
I enjoyed this book a lot. I thought the characters were very relatable and that the author portrayed a very authentic school experience. The small flashbacks to Ashley's childhood were a nice touch to the story. I also thought Lucia (Ashley's nanny) helped me better understand the somewhat rocky relationship Ashley had with her parents.
I would recommend this book to anyone right now, especially non-black teens wishing to educate themselves a little bit on racism. Seeing the Black experience of someone their age may be beneficial, and I found that this book had many parallels to the surge in the Black Lives Matter movement currently.