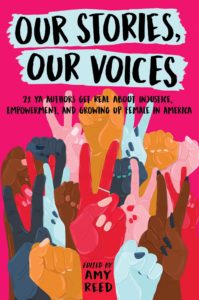 Our Stories, Our Voices, a
collection of essays and anecdotes about "injustice, empowerment, and growing up female in America" by 21 YA authors, is an incredible assortment of empowering pieces that truly describe both the large and small struggles of growing up as a woman in the U.S.
Each story presents a different outlook, as each woman has a different background and grew up with contrasting world views and distinct religious views. These essays explore everything from rape to racism, from gender to feminism, and from faith to weight.
Each piece finishes with an empowering message which encourages young people to believe that their voices and words really do matter and that they can make a difference, no matter how small they feel. Though there are many stories in this book preaching the
same message, it doesn't seem repetitive. Instead, each note of empowerment strengthens the last one, encouraging young women (and others) that they really matter and that they can stand up for what they believe. This is such an important book for women all
over America, and even around the world, to read and connect with. I would recommend this book to anyone who needs encouragement in believing that they matter or anyone who wants to read stories of women overcoming discrimination of every type.
By: Aisha Saeed, Alexandra Duncan, Amber Smith, Anna-Marie McLemore, Brandy Colbert, Christine Day, Ellen Hopkins, Hannah Moskowitz, I. W. Gregorio, Jaye Robin Brown, Jenny Torres Sanchez, Julie Murphy, Martha Brockenbrough, Maurene Goo, Nina LaCour, Sandhya Menon, Somaiya Daud, Sona Charaipotra, Stephanie Kuehnert, and Tracy Deonn Walker