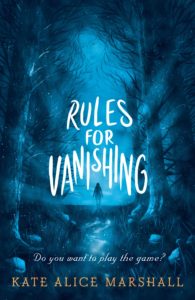 Sara finds herself alone and stricken with grief after after her older sister and favorite person, Becca, runs away from home with her boyfriend. Sara knows she is never coming back, and some people doubt if she's still even alive. After a year of feeling helpless, Sara soon starts dreaming about a girl. A girl named Lucy Gallows, said to have disappeared in Sara's town years before by escaping down a road in the middle of the forest. Sara knows she has to follow the road and get to Lucy in order to save her sister.
Kate Alice Marshall writes an incredible story about the road and its games, bringing in sacrifice, love, loss, and truth. The relationships between the characters mend and break, never failing to stay interesting. The road itself is scary and unpredictable, forcing the things on it to make impossible decisions. Marshall's writing brings this fictitious legend alive and allows her readers to truly be present on the road with the characters. The detective-case setup of the story and frequent plot twists create a book that is very difficult to put down.
Rules For Vanishing is a riveting story perfect for anyone who wants a bit of horror mixed with suspense and thrill. Great for anyone interested in small-town myths come to life, and mystical worlds with dangers lurking beneath.