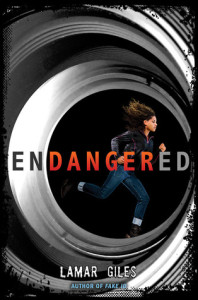 Lauren "Panda" Daniels is someone who blends into the crowd like a chameleon. She knows how to navigate her school hallways without causing any commotion and she keeps her secrets well hidden. No one knows that she is the one in charge of the famous photo blog responsible for revealing her classmates' cruel and dirty secrets. At least, that's what she thinks. Her secret identity is suddenly put in jeopardy when someone threatens to reveal her hobby. Unless she plays a part in her blackmailer's malicious game, her biggest secret will be exposed. Now, Panda is stuck in a cage as she fights to retain her identity, her dignity, and her sanity.
Endangered by Lamar Giles is a wonderful, enthralling, and diverse novel. The characters aren't made to be perfect. Rather, Giles uses quirky and realistic characters, which made this even more enjoyable to read. You will find a delightful blend of mystery, sarcasm, and action within these pages. I read the last page with a smile on my face, and I'll definitely be rereading this in the future.
Looking for a page-turner? Then I definitely recommend Giles' book Endangered.