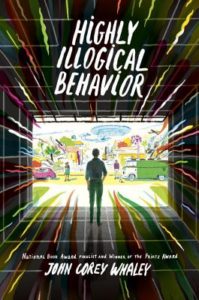 Highly Illogical Behavior is a sweet coming of age story that comments on the topics of agoraphobia, anxiety disorders and stigma surrounding mental health. John Corey Whaley does so by blending humor with heart while being sure to write with a touch of empathy.
Solomon Reed is 16years old. He hasn't left his house in three years, since a panic attack compelled him to sit in the fountain at his school until his parents came to take him home. He's smart and funny, he loves movies and books and Star Trek: The Next Generation, but the thought of leaving his house makes him hyperventilate to the point he cannot breathe. So while his parents worry about his future, for now they're content to let him go to school online and spend his life inside his house, with only them and his spry, sassy grandmother for company.
Lisa Praytor is determined to escape her home town and make something of herself. She has her sights set on attending the second-best psychology program in the country, but there's a catch: her essay must deal with her personal experience with mental illness. After a chance encounter with Sol's mother, she finds a solution to that problem: she's going to "fix" Solomon and get him to leave his home again. Lisa soon realizes that Solomon is more than his disease and the two form a strong friendship. Lisa soon introduces Solomon to her boyfriend Clark, with whom she is having slight relationship problems. As Sol shares his secrets and starts to think about life outside his house, Lisa starts questioning her relationship with Clark, and what Sol's role might be in the problems they're having.
Highly Illogical Behavior has well-developed, believable characters, however it's portrayal of other aspects regarding mental health leaves something to be desired. Solomon is a very pleasant and realistic character. He is funny, very aware of his limitations, relatable, adorable, and intelligent. His character traits are not portrayed as less important than his agoraphobia, on the contrary his agoraphobia only serves to increase the depth of his character without taking away from his personality. However the main plot point of this novel: Lisa's attempts to fix Solomon seem insensitive and degrading. The novel's suggestion that people with mental illness are something to be "fixed" is crass and derogatory. Lisa felt manic and manipulative, her portrayal as an "anti-hero" was unsuccessful. The novel's portrayal of Solomon's mental illness felt simplistic. Solomon felt mostly comfortable inside, but he got spontaneous panic attacks and negative thoughts with no background or lead up. The end was rushed and didn't end off with a clear resolution, or a clear message about anxiety. Overall, Highly Illogical Behavior by John Corey Whaley is an acute, fluffy read that was slightly insensitive at times.