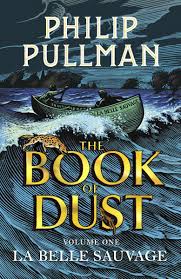 Over a decade and a half after the release of The Amber Spyglass, the last book in his groundbreaking  His Dark Materials trilogy, Phillip Pullman returns to the world of Lyra Belacqua. In this debut novel La Belle Savauge, first, of a new trilogy titled The Book of Dust, Pullman introduces new characters, while at the same time giving us a closer look at the pasts of some old ones. Set in a time when the church has nearly every scrap of power, Pullman manages to perfectly demonstrate both the good and bad sides of religion.
Nearly a decade before the events of The Golden Compass, a boy named Malcolm roams the streets and canals of Oxford with his daemon Asta at his side. As the son of an innkeeper and the holder of a dozen odd jobs, Malcolm is the kind of boy who hears a little too much for his own good. When he finds a message meant for an agent of an organization known as Oakley Street, dedicated to fighting the church's chokehold on politics and science, he is drawn into a world of secrets and spies. However, when he meets Lyra, the baby girl the nuns in the local priory are taking care of, his entire world is flipped upside down. Since Malcolm has no siblings, he begins to think of Lyra as his little sister, one he would do anything to protect. And Lyra needs protection.
Malcolm finds himself caught between the opposing sides of the Magisterium and Oakley Street. In a web of secrets and conspiracies Malcolm and Asta struggle to keep themselves and Lyra safe, but as the forces of the church close in, together with mysterious strangers and dark rumors, that is not an easy task. With the help of a peculiar and unlikely cast of characters, Malcolm and Asta navigate their way through this surprising and wonderful tale.