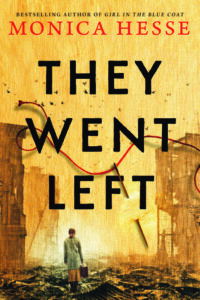 They Went Left, by Monica Hesse, tells the heartbreaking story of a Jewish girl named Zofia and her experiences after World War II and the Holocaust. After the Allied liberation, she was sent to a hospital to get better. Trauma and damage racked her brain and caused her memory to be fuzzy and spotty.
But there was one thing she always remembered: Abek. She had to find Abek, her younger brother. A to Z, Abek to Zofia. That's what they had always said. Zofia set off on her spontaneous journey to find her brother. He was all she had left. When Zofia and her family arrived at Birkenau, Abek and her family went right in the separation line. The rest of her family went left. Hesse
combines the story of broken families and forgotten lives into the tale of Zofia and her brother Abek. This story is so raw but so necessary; it explores the true experiences of the Holocaust and the happenings of the surviors afterward– a part of the story that isn't heard very often. They Went Left gives real heartbreak and hatred, but it also provides the idea of hope in the darkest times. It explores a different kind of family, and the ability to patch open wounds. They Went Left reveals the mystery of Abek and Zofia, and the new worlds built up after the war and the Nazis destroyed the old one.