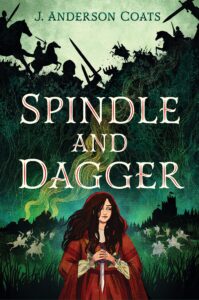 Spindle and Dagger by J. Anderson Coats is a historical fiction novel set in Wales in 1109. That fact alone was enough to draw me in. I have never read a book set in this time period, let alone heard much history about Wales at all, so I immediately wanted to pick it up. This book is about a girl named Elen who, to quote the synopsis on the back of my copy, "must live a precarious lie in order to survive among the medieval Welsh warband that killed her family". Reading the full synopsis does give away a lot of information, including some details which take a long time to be fully explained. So, because of that, I am going to keep my description vague in case you wanna skip the details and go in blind so as to be more surprised by certain aspects.
In my opinion, the novel was quite a bit lacking in depth in everything from the plot to the characters. That said, I still found the story itself very intriguing. After I read it, I was surprised to learn that this is based on a real woman and story in 12th century Wales. Obviously the book is fiction, so some portions were embellished or added to make for a more compelling story, but I still find it incredibly cool that Elen and Nest were real women, and that Owain ap Cadwagan was a real Welsh prince. It was so interesting to learn the history of all the chaos in Wales and its relationships with other countries, however, what I found the most interesting was the accurate portrayal of women during this time period. Nowadays, we are so used to having strong independent powerful heroins as lead characters, so much so that the whole time I was reading, I was expecting Elen to start embodying that. However, I am very impressed by Coats' decision to write the female characters correct to the time period, almost entirely powerless, because it made the book feel that much more real, as historical fiction novels should.
All in all, although it was a bit lacking, this was still a good book because of its' unique inclusion of a very interesting lesser known piece of history. If you are a fan of historical fiction and you maybe haven't read a book from this time period or if the story has just drawn you in like it had me, I very much suggest giving it a try.