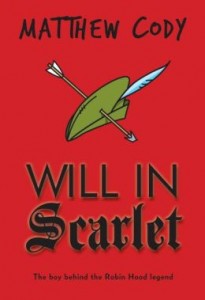 The book Will in Scarlet by Matthew Cody is an enchanting retelling of the tales of Robin Hood and his legend of stealing from the rich and giving to the poor. Initially, it follows William Shackley – a boy of mischief and the son of a wealthy lord. Nevertheless, after his father leaves England with King Richard the Lionheart to fight a war in Jerusalem, William's well-being is threatened. With the King gone, a power struggle emerges, and as a result, William is forced to flee his comfortable life into the neighboring Sherwood Forest. Here, he is taken for ransom by the Merry Men, a band of outlaws who live off of theft and greed. However, although Will's heart is set on leaving Sherwood and revenging his family from the royal men who tore his life apart, he eventually finds that this band of thieves has more potential and compassion than he ever could have anticipated.
All in all, my favorite aspect of this book is the use of imagery. Whether Cody was writing about an event as stimulating as a wolf hunt or as simple as the aromas of a kitchen, his word choice allows readers to experience this story as if they had been transported into the adventure itself.
For those of you interested in an easy-to-read adventure book, I highly suggest giving Will in Scarlet a try!