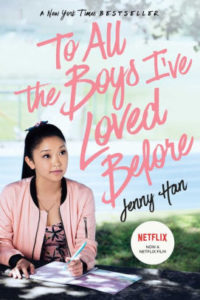 Maybe you have seen the current buzz about Netflix's latest movie, To All the Boys I've Loved Before. However, most people do not know that this movie was based on a book of the same name! To All the Boys I've Loved Before is actually part of a trilogy written by the fantastic Jenny Han. This book is one of my all-time favorite because of its wonderful characters, great plot and writing, and representation.
This story's fantastic plot had me finishing the book within the day I picked it up. The concept of the love letters is pure genius, and the originality of the idea pulled me in and kept me engaged. Han put a fun spin on the classic love triangle, and the deft writing allows the story to be fresh and interesting rather than clichéd. The story is wholesome without being boring, and endearing without being sickly sweet. Han's writing has a general warm and homey mood to it, which in turn strengthens Lara Jean's character.
As soon as I read the first page, I instantly fell in love with the protagonist, Lara Jean Song Covey. Lara Jean is one of the most kind, caring, and warm-hearted characters I have ever read about. I admire her sweet nature and her love for her family. She truly values those that are close to her, and will be there to support them. Peter Kavinsky was the next character that I enjoyed reading about. He has this almost childish air about him, and his charisma easily charms any reader. He is playful and easygoing when with his peers, and he enjoys living in the moment and appreciating the little things. With his confidence and big heart, it is no wonder that he is such a beloved character. Kitty Song Covey was the last character that I loved getting to know. Her humor provides an excellent source of comic relief among the drama, and she adds so much to her family and to the story. She always has something clever to say and makes the dynamic between the characters more fun and lighthearted.
Furthermore, this book is one of my absolute favorites because of its representation. The story is centered on a teenage Korean-American girl, whose sisters and mother are also Korean. Although I am not Korean myself, I am Chinese and therefore Asian. I rarely see stories (books, movies, television shows, or otherwise) that star Asian leads and Asian stories. Seeing an Asian girl on a book cover made me feel incredibly overjoyed because I was able to see myself in the book I was reading. Reading this book helped me understand why representation matters so much, and it is because representation tells people that their stories matter and do not hold less importance than others.
I highly recommend reading this book and seeing the adaptation on Netflix (this post is not sponsored; I just really enjoyed the movie). Not only would you be reading and watching a cute love story unfold, you would be supporting representation of thousands of people who are finally seeing themselves in books and movies. Please go support this amazing work of literature, as well as the equally amazing Asian representation!