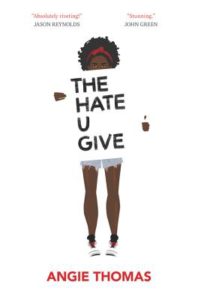 The Hate U Give by Angie Thomas is a riveting and heart breaking story of a girl who discovers brutal realities of racism and police violence. This incredible stand alone is inspired by the Black Lives Matter movement.
The Hate U Give follows Starr, a girl torn between two realities: a poor black neighborhood where she lives and the posh prep school she attends. She is also torn between two identities: her polite prep school self and her slightly wild neighborhood self. When her friend, Khalil, is unjustly killed by a police officer, Starr's world falls apart as she struggles to grapple with new realities and is torn apart by the many opinions regarding Khalil's death. The Hate U Give is about how Starr deals with the aftermath of Khalil's death. She's afraid to speak out, yet angry that Khalil's murderer could escape justice. Starr knows that her words will make a great impact, she is also aware of how they will endanger her life. Angie Thomas uses Starr's experiences to portray the media's prejudice against young black men: guilty until proven innocent.
The Hate U Give comments on racism, interracial dynamics and police brutality by capturing the perspective of a scared young girl. Starr is such a developed, multidimensional character. She's clearly written with so much heart and honesty. Her inner conflicts are so believable. Every side character is treated with just as much respect and honesty as she is. The relationship dynamics that run alongside the fight for justice are no less compelling. Thomas deftly portrays complex, nuanced relationships between all the people in the book, considering the divides between Starr and her white classmates, but never allowing anyone to become cliché or one-dimensional. This novel is phenomenal, a timely must-read that educates on the hard ships of those silenced by society's flawed regime.