Words in Deep Blue, by Cath Crowley, is written from two people's points of view; Rachel and Henry. These Australian teen, best friends tell the ups and downs of their loves and losses, with books playing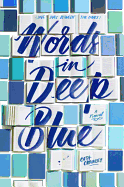 a big part in their lives.
Henry's family owns a second-hand bookstore, with a unique 'Letter Library'. This is what their bookstore, Howling Books, is best known for. Anyone can write or mark anything in any of the books in the Letter Library. A letter to a loved one, a dedication, underlining a few words they liked. They're all so unique, which makes it interesting. The rest is for everyone else to see and imagine different things from these little notations. This was a touching and vital part of the story, as many love stories are explained through this library. Including Rachel and Henry's. One thing I disliked was how Henry kept going back to his girlfriend, Amy, who he started dating after Rachel left her childhood home to live by the ocean with her family. Rachel and Henry are destined to be together, and Cath Crowley makes you wait for it. Her intense writing keeps you on the edge of the seat, as Rachel comes back to Henry's town after three years. Only this time, she's got a secret. Her brother, Cal, drowned in the ocean, and she isn't taking it well at all. Her moods change, she's skinnier, she bleached her hair, and she decides to not tell anyone about her loss. Rachel took a job at a coffee shop near her aunt's house, where she stays because of the move. But the job miraculously falls through, and her aunt found her work at Howling Books, cataloging the Letter Library. Rachel and Henry see each other for the first time in three years, and it's not pretty. Even though Rachel is supposedly 'over' Henry, she still wants nothing to do with him. She tries to avoid him the best he can, until one night, their friend is playing at a club, and Henry decides to drink a little more than he should have. Amy broke up with him earlier, and said that she was in love with someone else. That someone else was Greg Smith, a good looking guy with lots of money. Amy says it's got nothing to do with Henry, but he's convinced it's because he doesn't make much money, working at a second hand bookshop. Although she doesn't want to admit it, they both know Henry is a little bit right. Rachel and Henry run into each other at the club after he falls down from drunkenly accusing Greg Smith when he sees him with Amy. After that, Rachel and Henry get closer, not knowing they both want each other until it's too late. Meanwhile, Henry's family is falling apart, because some people want to sell the bookstore and the others don't. Seeing if the long lost friends can save the bookstore and their love is a crazy, intense story.
Words in Deep Blue is a quick read, though enough time passes to make you feel like you're in the story yourself. Even with its many heart wrenching sad points, this is a book I could not put down. Constant shockers and amazing writing makes it a true must-read. I recommend this book to anyone who wants to be sucked into a story about love, books, and friendships. Anticipation crawls on your skin as you read about Henry and Rachel, hoping they find their true feelings for each other. Crowley's beautiful and realistic writing makes everyone want to spread the Letter Library in their own bookstores. Cadie P.

Save