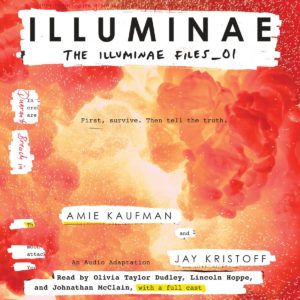 When BeiTech, a powerful corporation in a futuristic, space traversing society, attacked an illegal mining colony run by one of their competitors, the lives of the colonists were irrevocably destroyed. Thousands died, and those who managed to escape are being pursued by the remainder of their attackers, who plan to destroy any who might reveal the atrocities they commited. Kady and Ezra, newly exes, were finishing high school when the attack came. They lost everything that day, and now, licking their wounds, are pursued by the very people who tried to kill them the first time, all they have left is each other.
Jay Kristoff and Amie Kaufman's Illuminae is not like anything I've ever read. In fairness, I don't read much in the way of space operas, so I may simply not have much to compare it to. The genre is generally too overpopulated for my tastes with leather-clad protagonists (you'd think styles would have changed in a few centuries) shooting blasters at a strangely uniformly humanoid collection of aliens (seriously, can we get, like, a highly evolved society of blue space bats that communicate using bioluminescence? Or just something instead of green humans? Thanks.)
But while Illuminae does employ many of the genre's tropes, it does so in a unique way. Giant spaceships? Sure, but not all of them are battlecruisers or have guns (I mean… some of them are.) Ability to do jumps from one place to another within the galaxy? Of course! But only the huge, expensive ships have the technology to make them. Hot, intelligent hero on a mission, accompanied by an equally hot sharpshooter with a dark past? Check! But she isn't particularly interested in the greater good (I mean, she is a bit, she is the hero after all…) and her love interest is less tall dark and broody than he is a loveable doofus with the texting grammar and etiquette of every teenager in your contacts.
Illuminae combines sci-fi and horror in an addicting story told not in the traditional methods of storytelling, but in a hodgepodge compilation of stolen documents. Everything from ship's logs, to casualty reports, to text messages, are employed to tell the tale. The result is a riveting book that, despite depriving the reader of a deeper understanding of the characters' states of mind, allows for a wider picture of the situation. The inclusion of official documents and communications gives the reader a sense that the book chronicles real events, and the text messages between the two main characters, Kady and Ezra, endears the protagonists to the reader and thus makes us care when they and others are in danger. I highly recommend this book, and urge you to get it as a hardcopy. I think any other format just couldn't do it justice.