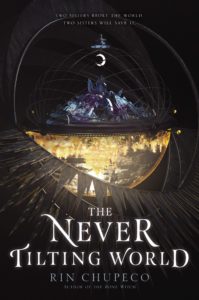 Haidee and Arjun live in a land of perpetual light. Haidee, daughter of the goddess-queen of the golden city, is expected to take her mother's place when she is old enough. She is expected to wed and have daughters and rule and, in the meantime, obey. But Haidee knows there is a better way to rule than her mother's method of shutting out everyone but their own and hoarding their world's swiftly dwindling resources for their city alone. She also knows that the answers to her questions about what happened to her world and how she can fix it, lie in her family's past. But her mother is cagey about her past, and refuses to tell Haidee what happened the day the world split in half, much less what befell the sister and father she never knew. So, Haidee does the responsible, sensible thing: runs off on her own, without telling anyone, looking for the end of the world.
Arjun belongs to one of the nomadic groups that sprung up in the wake of the world's Breaking, salvaging and scavenging what they can to survive. He has no love of the goddesses who tore their world apart, but when he meets Haidee, things get a bit more complicated. It's easy to hate a goddess responsible for his family's struggle. It is less easy to hate a rainbow-haired girl who makes friends with dolugongs, and who is terrible at making sensible plans but incredible with machinery. She is smart and strange and he has no idea how she is still alive, but they are traveling together now and are, if only grudgingly, friends. So as near as he can figure out, it is more or less his duty to keep her that way.
Odessa and Tianlan live shrouded in shadow, their dying city caught between the danger of the icy sea and the ravenous creatures within on one side, and the treacherous and uncharted wildlands on the other. Tianlan of the Catseye, former ranger of the wildlands, never wants to return to the place that killed her friends. Unfortunately, when monsters not seen in decades appear at the shore and speak to the Princess Odessa, Asteria, the queen, sends Lan and a ship full of other powerful spellcasters to find the Rift where the world broke— and find a way to fix it. Unbeknownst to everyone else, Odessa, intent on following the monsters who spoke to her of powers beyond imagining and the trials she must face to gain them, sneaks aboard.
As the four teens draw closer to each other and the Rift, danger grows. Dark things lurk in the past of Odessa and Haidee's family, and soon both princesses will need to take terrible steps to protect those they love.
I went into this book with high expectations. I have read Rin Chupeco's other books and loved all of them. A Never Tilting World did not disappoint me. Chupeco is an expert at the first person narrative, which can too easily become tiresome to read, and all four characters have a distinct voice and personality that work well with the story. The world is stark and colorful and unique, while still managing to invoke farmiliar fears of dwindling resources and uninhabitable homelands that are all too real in our world. I highly recommend A Never Tilting World to anyone who loves fantasy with vast magical powers, monsters, dystopias and grand romances.