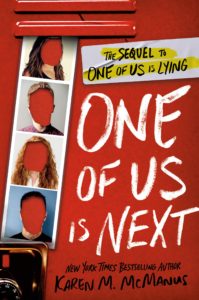 I went into One of Us is Next with high hopes, but still, I didn't expect to like it as much as I liked One of Us is Lying (book one). In the end, I think that I liked the sequel even better thanthe debut hit. With a caveat. If you are looking for a fast paced thriller, then this isn't for you. However, if like me you enjoy a slower, more introspective story that tends toward looking at motives and relationships rather mostly clues, this is the book for you. This is not to say that it is devpid of suspense— simply that it is not a major element of the book untilt he final third.
In book one we followed the Bayview Four, as they came to be called, but  One of Us is Next revolves around an almost entirely new set of characters. Almost, because one third of the trio that make up our POV characters is Maeve, Bronwyn's little sister who was instrumental to the wrapup of the first book. The other two are Knox, Maeve's former boyfriend and current best friend, and another girl, Phoebe. Still, McManus manages to create a new cast of characters, that intersects with our old ones (who have matured off page, but still feel organic and right).
Ever since the exoneration of the Bayview Four, copycat gossip blogs and apps have been popping up at Bayview high, although none have managed to get a foothold. Until now. But when the students of Bayview get a collective text, it isn't a juicy piece of gossip— it's a game. Here's how it works: one student gets a text, and they have twenty-four hours to choose, Truth or Dare. Pick dare and you get a task and fourty-eight hours to complete it (and document it), pick Truth— or don't pick at all, and you get one of your secrets revealed to the entire school. Phoebe is first, and she elects to ignore it. After all, the only secret that could hurt her— well, no one could know that. Except, somebody does. And they tell the entire school. With one text, Phoebe's life (already half in ruins after the death of her father) is upeneded, and she is just the opening act. After Phoebe's worst secret is revealed, and her life upended, everyone knows to choose Dare. Except Maeve, who wants no part of it. But when Maeve refuses to choose, she's not the one who pays the price.
After two terrible truths, who wouldn't pick dare? But after Bayview is shaken by a second death, the game stops. But the question remains, who was playing that terrible game with them? And was the death of that student just a tragic accident, or is there something else going on? Pairing her excellent character building with a captivating new mystery and a powerful critisism of gendered roles and sexual pressures on teens, McManus has written a sequel that more than lives up to its predecessor.