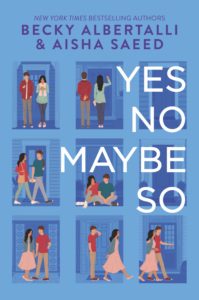 With her bubbly outlook and likeable characters, Becky Albertalli has long been a quintessential voice in YA romcoms. With popular novels like her widely acclaimed Simon vs. the Homosapiens Agenda and its movie adaptation, Love, Simon, she even managed to break out of bookish audiences. But in my humble opinion this new novel is one of her best yet. The glory can't all go to her, of course— like her previous work, What If It's Us, she collaborated with a second author: Aisha Saeed (Amal Unbound). In all honesty, What If It's Us (Adam Silvera and Becky Albertalli), felt somewhat disjointed. Individually, I enjoy Albertalli and Silvera's work, but their writing styles are so very different from one another that they did not fit well together.
In contrast, Saeed's writing meshes perfectly with Albertalli's— lighthearted and sweet while still managing to ground Albertalli. Albertalli writes Jamie, and Saeed writes Maya; childhood friends who fell out of touch years before the start of the book. When their respective mothers sign them up to canvas for a progressive candidate challenging an incumbent, the two teens kindle both a great friendship and a newfound interest in politics. Over the course of the summer the two friends will battle racism and social anxiety as estrangement turns to friendship turns to feelings.
Yes, No, Maybe So is a sweet story (perfect for those slow burners) about friendship and young love that will lift your spirits and serve as a reminder that your voice matters. It is a story of hope and determination that helped get me interested in politics. If you are looking for a shot of fluffy goodness to get you through reality, this is the book for you. I would recommend it primarily to fans of Becky Albertalli and Jenny Han.