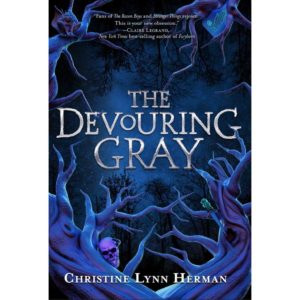 The town of Four Paths is cursed. Hundreds of years ago, the four founders of the town fought a monster and used the powers they bargained away from it to lock the creature in the Gray, a dead version of the town trapped in the time of the Gray's creation. Now, the descendants of the four founding families use the powers passed down to them to defend Four Paths still.
Justin's family, the Hawthorne's have been the most powerful family in Four Paths for years. His mother, the town sheriff, rules Four Paths and the other Founding Families, and expects her children to follow in her footsteps. But while his sister can read people's futures in the Deck of Omens passed down from the Founders, Justin has proved himself completely powerless. And in a town where being a Founder with power makes you all but a king, and being one without a pariah, Justin's family has determined to fake his power until he can be shipped off to college.
Harper Carlisle is a pariah. On the day she performed the ceremony in which she was supposed to gain her powers and take her place among a family of Founders, she was trapped in the Gray. When she emerged from the Gray a few days later it was without power, and without her arm. Sheriff Hawthorne decided to cut her out, and her family allowed it, and worse, her best friend, Justin Hawthorne abandoned her. Now, Harper would do anything to get revenge on the Hawthornes and even more, to get even a scrap of the power that was stolen from her in the Gray, a scrap of the power she deserves.
Violet Saunders is still grieving from the death of her older sister when her mother uproots their lives to move to her childhood home of Four Paths to take care of her own sister, who suffers from early onset dementia. She's expecting old friends of her mother and that small town drama from the movies, but what she finds is much, much weirder. And scarier. Definitely scarier. But also small town drama. And, you know, an ancient evil nobody knows much about but still kills people in creepy ways if they wander into its territory.
The Devouring Gray is wholly original and darkly fascinating. I spent half of it turning my audiobook off and on because parts of it are just that creepy and the other half glaring at anyone who tried to talk to me because I didn't want to miss a second. It is that one horror story in a hundred where you actually like the characters and agree with their decisions, the one fantasy novel with a story original enough that you don't actually know what is going to happen. It also has love interests you can get behind and, yes, a love triangle— but not the one you expect! It's amazing, and I promise you'll love it!