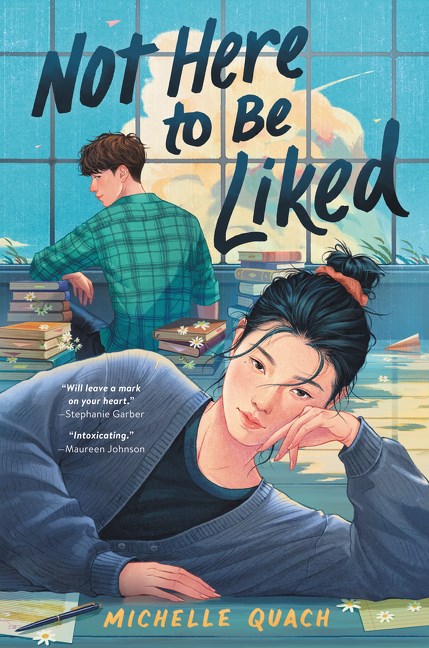 Not Here to Be Liked by Michelle Quach is an adorable young adult novel following Eliza Quan, a teenage girl learning about feminism. After Eliza's goals seem to be unreachable due to a sudden competitor, she expresses her emotions privately the best way she knows how, by writing. Unfortunately, someone takes her writing and publishes it for the world to see. She doesn't back down from her claims although she begins getting harassed, instead makes her opinions even more known by protesting in many creative ways. Along the way she makes friends with people she least expected, who make her question whether she is a good feminist and what that actually means.
This story was great, the characters felt very real and relatable even when some situations seemed stereotypical of young adult stories. The plot was very clear, making all the events in the story fascinating because the reader wanted to know the effects of everything on the characters' relationships and futures. Another thing that is greatly appreciated in stories is having funny or amusing dialogue, Quach definitely delivered on this front. For all it's great qualities, there were a few things that needed improvement, the world building and descriptions for example could have been less detailed as this often got tedious to read. Personally, I could related to the main chacater feeling as though she is unlikeable as well as constantly questioning whether she is a good feminist or not.
To conclude, I would definitely recommend this book to others, especially those who want to read about feminism in a school setting that does not only talk about dress code. This is because this author finds many different examples in education where misogyny goes unchecked, not just the classic dress code discussion. – Lynda O.