by Misa Sugiura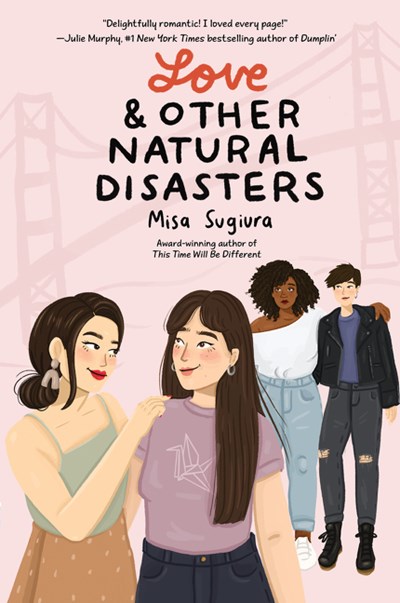 Love and Other Natural Disasters by Misa Sugiura is a fun and light-hearted teen romance novel. The main character, Nozomi, has moved to San Francisco for the summer to live with her uncle. She is trying to get over a rough experience with a girl as well as try and figure out where she stands with her grandmother, who is struggling with dementia and might not accept Nozomi for her sexuality. Over the summer, she meets a girl named Willow and instantly develops a crush. Willow is not yet over her ex-girlfriend but when she asks Nozomi to pose as her fake girlfriend to woo back her ex, Nozomi instantly agrees. As she makes new friends in a new city, she must reevaluate her idea of romance after it had been warped from her parent's recent divorce. She will find the true meanings of love and family throughout her summer.
Like Suigiura's other works, I thought this book was enjoyable. It was fun to follow Nozomi's mission to win over Willow. That said, the serious themes also included in the book gave it more meaning. The plot was also very engaging and exciting. The POC LGBTQ+ representation was very refreshing to see.
Overall, I enjoyed this book a lot and I would recommend it to romance lovers and fans of Jenny Han. You are in for a great read!
Reviewed by Sophie Cornish