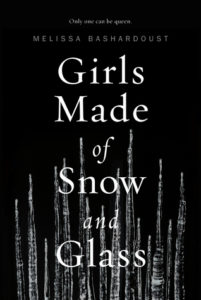 Love YA fantasy? Subtle romance? A dark and twisting tale that defies all clichés and expectations? How about brilliant retellings of your favorite fairytales? If so, Girls Made of Snow and Glass is perfect for you.
Mina is a queen. She has wealth, power, a crown, and control over half a kingdom. Everything she could ever want, except one thing: love. Mina's magician father cut out her dying heart and replaced it with one of glass when she was a child. But Mina's new heart was made to function, not feel, so she cannot truly love or be loved.
Lynet is a princess who looks exactly like her dead mother, Queen Emilia, a beautiful, delicate, soft-spoken woman who was too frail to survive Lynet's birth. The young princess has always been told that when she grows up she will be exactly like her mother, but Lynet isn't so sure. She prefers scaling the castle walls to playing the harp or dancing; and she would much rather spend her time talking with Nadia, the intriguing new female surgeon, than listening to the Pigeons (a gaggle of gossipy old ladies) jabber on about how like her mother Lynet is. But Lynet doesn't want to be like the dead queen, she doesn't want to be delicate. She would rather emulate Mina, her fierce and beautiful stepmother, than the mother she never met.
But as Lynet grows older, her father seeks to force his daughter into her mother's place and in doing so force Mina out. As Lynet is slowly given more of the queen's power, stepmother and daughter grow farther apart, and Lynet must fight to keep the only mother she has ever known. But there can only be one queen, and when Lynet learns a shocking secret about the circumstances surounding her birth, the princess is forced to reexamine everything she thought she knew about her family, her home, and most of all — herself.
Girls Made of Snow and Glass is a lovely and haunting tale of love and loss, adventure and politics, and most of all: family. In this beautiful, heartbreaking story, Bashardoust reimagines the fairytale Snow White, to create a vivid and powerful cast of characters to populate the fantastical world that she has conjured into existance on the page. If Girls Made of Snow and Glass isn't yet on your reading list, add it now, for this is an incredible book that will stick with you for a long time to come.